Volume 4 : Issue 2, June 2015
Volume 4 (2); June 30, 2015 [XML]
Research Paper
---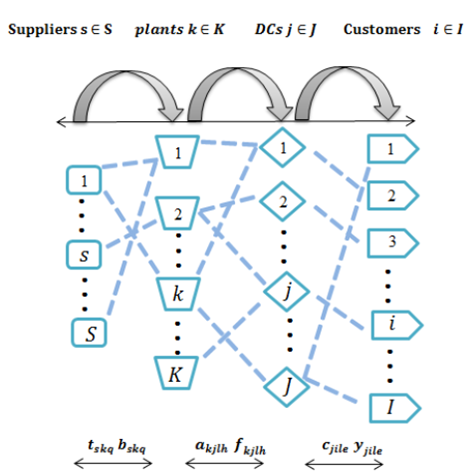 Multi-Stage, Multi-Product Supply Chain Network Design with Solid Transportation and Fixed Costs.

Rezaei A., Molla-Alizadeh-Zavardehi S.

Sci. J. Mech. Ind. Eng., 4(2): 13-17, 2015; pii:S238309801500003-4
ABSTRACT

Supply Chain Management (SCM) is an optimal arrangement including the delivery of goods, services and information from supplier to buyer. The design of a transport network is one of the key areas of supply chain management. The design of this network provides great potential for reducing prices and improving the quality of services. Existence of transport vehicles and the transferring way of substances and products in a supply chain network is a very important issue. Transportation transfers goods between different parts of the chain. In addition to speed that is very effective on the efficiency of transportation in chain. So, for the first time, the solid transportation is considered in the multi-stage multi-product supply chain network design. Therefore a mathematical programming model is proposed and then the model is coded by Lingo Software to solve.
Keywords: Supply Chain Management, Buyer
[Full text-PDF] [RICeST]
---
.
---
.
---
.